Sutek's Tomb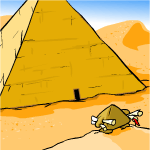 Legend has it that there was an ancient Geb named Sutek. He was stronger, fitter, and cleverer than the other Gebs, and was praised by all for his courage and wisdom. When he died, they built him a tomb that was the same shape as him (known as a Gebmid). It had four triangular sides, and a square base. There are now many Gebmids around the Lost Desert, but Sutek's was the first.

To stop people getting at Sutek's riches (millions of Neopoints), his advisors placed a combination lock on the tomb. Strange symbols adorned an impassable door. For the person who could figure out the pattern to unlock the tomb, well, he would be the wealthiest person alive!
There appears to be a series of hieroglyphs on the parchment nailed to the wall... I wonder what they mean...