The Mirror World Money Tree
The Mirror World Money Tree is a place where people can donate to the Neopets Hive!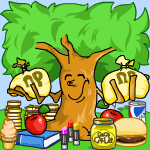 Hello, and welcome to the Neopets Hive site! My name is Aaron, also known as prince_raptor on Neopets.com.
For five years now, I have worked hard to bring everyone high-quality, reliable Neopets-related content as quickly as it becomes available. I've also put a lot of time and effort in to creating this site and all of the many features on it (such as Mirror World) for the enjoyment of you, the visitor. Even though I haven't been around much lately to update the site, I still hope that you will continue to visit on a regular basis to check for news, use the Daily To-Do's, or access one of our archives.
For several years, this page had a link to my shop in case visitors wanted to make a Neopoint donation to me as a little thank you for my work on the Hive. I am very happy to say now, however, that the Hive will no longer be soliciting donations from its visitors :)
Thank you all for your continued patronage here on the Neopets Hive. I hope that it continues to serve as a model for quality, content, and reliability for years to come.
P.S. - Anyone feeling particularly generous should always consider donating a few Neopoints or decent items to the Neopian Money Tree. There are a lot of users out there (especially young kids and new players) who could benefit from your charity.
Never forget how much you appreciated a few thousand Neopoints when you first started playing ;-)