NEOPETS LINKS
Brightvale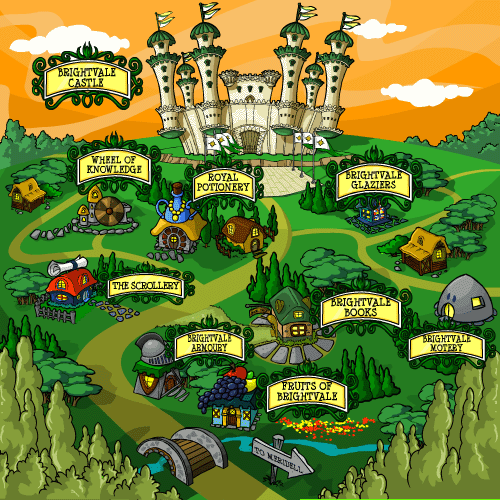 The largest mini-world in Neopia to date, Brightvale is a small kingdom just outside of Meridell that is ruled by King Hagan the Wise. Definitely worth a regular visit, Brightvale is by far one of the most impressive locations in all of Neopia. All it needs is a quest and a daily free game and it's sure to be a success!
Brightvale Castle, Wise Old King - Tell King Hagan something interesting and he might reward you.
Wheel of Knowledge - Give it a spin and you may be well rewarded!
Royal Potionery - This store sells all sorts of potions with a wide range of effects on your Neopets.
Brightvale Glaziers - A little shop that sells windows for your Neohome.
The Scrollery - The place to go for medieval scrolls that can be used in the Battledome.
Brightvale Armoury - A shop that sells medieval defense items for the Battledome.
Brightvale Books - A medieval book store.
Fruits of Brightvale - A shop that sells fruits that can only be found in Brightvale.
Brightvale Motery - The only store in Neopia that sells magical motes that can be used in the Battledome.