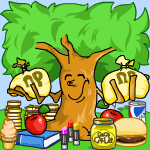 The Money Tree is one of the most famous locations in all of Neopia. This is where many of Neopia's most generous souls donate some of their items and Neopoints to the less fortunate members of the Neopets community.
As a new user you'll find the Money Tree to be a great place to go. If you don't know your way around Neopia and are looking for some assistance, then the Neopoints and items found here can really help out. However, you should be weary of random items that aren't worth very much. Some of the most "popular" items at the Money Tree are Toy Boats, Bottles of Sand, Palm Fans, and other Tombola Booby Prizes. Some of the more useful items to be found here are bags of Neopoints, Omelettes, and other kinds of food.
A great event at the Money Tree occurs every Wednesday morning at 6:00 AM Neopian Standard Time (Pacific Time, US). At this time, Balthazar donates a bunch of Bottled Faeries to the Money Tree, with each one worth around 3000-4000 Neopoints!
Unfortunately, sometimes Ghosts steal all of the donations at the Money Tree, so nobody benefits from them. But on the bright side, the Ghosts are also responsible for stealing Neopoints from random users and dropping them at the Money Tree.

Remember - When you have a lot of Neopoints or extra items, be sure to donate to the Money Tree from time to time. It really helps other users out.
NOTE - You cannot donate more than 5,000 Neopoints at a time, and you cannot donate more than 50,000 Neopoints per day.