NEOPETS LINKS
Terror Mountain (Happy Valley)
Neopedia Article - Happy Valley
Neopedia Article - Ice Caves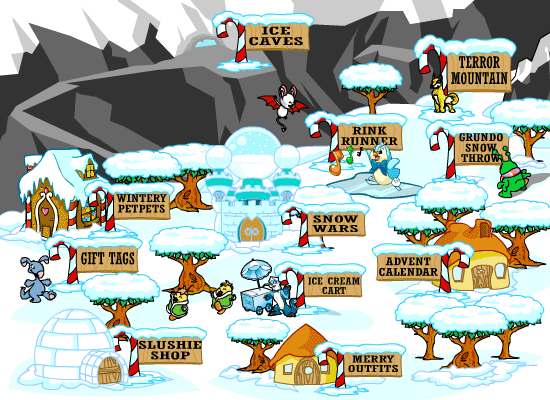 Terror Mountain in broken up into three areas- the peaceful Happy Valley, the frigid Ice Caves, and the aptly named Terror Mountain. Take a look around, since there are a lot of great locations you should visit often here.
Rink Runner - Use your mouse to guide the Bruce around the ice. Catch as many notes as you can in as few jumps as possible to get lots of Neopoints.
Grundo Snow Throw - Use your team of Grundos to knock out all of the Yetis before they defeat you.
Advent Calendar - Stop by once a day during the month of December to receive free Neopoints and items.
Snow Wars - Take aim at your opponent's territory and hit all of the targets before they hit all of yours.
Wintery Petpets - The place to go to purchase winter and Christmas-themed petpets.
Gift Tags - During the holiday season, this is a great place to go to print out Neopets-themed gift tags.
Ice Cream Cart - Redeem special tokens for yummy ice cream treats!
Slushie Shop - Nobody makes slushies quite like the Slushie Shop of Terror Mountain.
Merry Outfits - A list of all Neopet species that can be painted with the Christmas Paint Brush.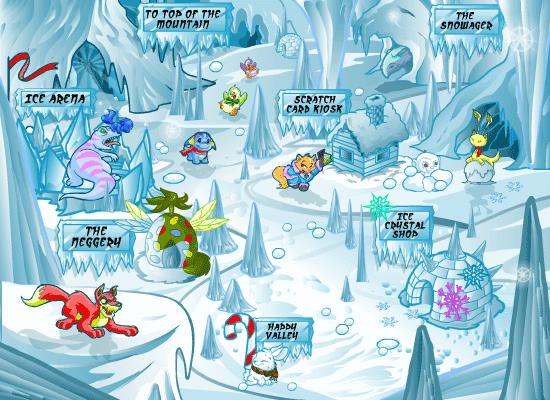 The Snowager - This massive ice worm guards his massive treasure day in and day out, but every now and then he falls asleep, giving you the chance to sneak in and snatch a prize. Just be careful... if he catches you near his treasure, your Neopet might end up getting blasted by him! The Snowager is awake from 6am-7am, 2pm-3pm, and 10pm-11pm, Neopian Standard Time.
Scratchcard Kiosk - For 600 NP, you can buy a special scratchcard that could earn you thousands of Neopoints, some snowballs, a rare winter Battledome item, or a cool plushie.
Ice Crystal Shop - The only store in Neopia that sells winter-themed Battledome items.
The Neggery - Come here to redeem your boring, powerless neggs for rare, powerful neggs.
Ice Arena - If you challenge another Neopets user to a match in the Ice Arena, you must come here to begin the battle.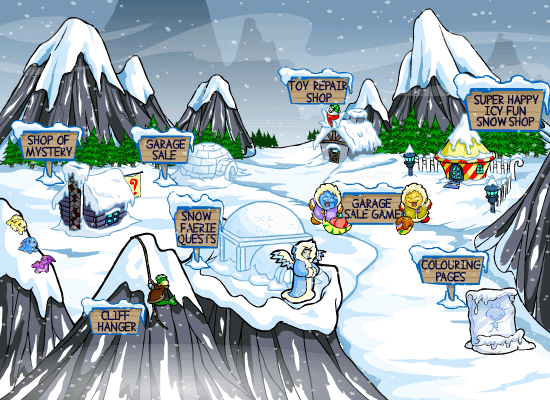 Toy Repair Shop - If you play with some toys too much, they might brake. Fortunately, if you come here the Bori shopkeeper might be able to fix them.
Super Happy Icy Fun Snow Shop - This store sells Magical and Non-magical Chia Pops, flavored Snow Puffs, and a few foods that are made at least partially with snow.
Garage Sale Game - Based on the Garage Sale shop, you must catch the valuable items as they fall before they hit the ground and break.
Colouring Pages - Winter-themed coloring pages.
Snow Faerie Quests - The Snow Faerie needs special ingredients to complete her spells. If you can help her out, she'll give you a little something for your troubles.
Garage Sale - A shop that sells completely random items. Stop by every now and then to see if there's anything you can take off their hands.
Shop of Mystery - You don't know what you're buying, but for some reason, you can help but purchase something!
Cliff Hanger - Can you solve the puzzle before the Tuskaninny falls off the cliff?
History
Terror Mountain has been the site of three significant historical events. First, when this world was first released, special Ice Totems were required in order to visit the Ice Caves inside of the Mountain. Later, a massive earthquake shook everything on Terror Mountain up, leaving behind an enormous molten crevice in the middle of the Ice Caves. Once the crevice cooled down, a trip into the abyss revealed a new world, Tyrannia. Most recently, Terror Mountain was the site of a plot called "Hannah and the Ice Caves."