NEOPETS LINKS
Virtupets®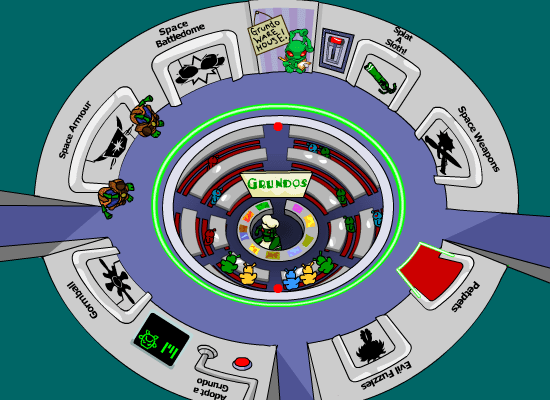 A few years ago, the evil Dr. Sloth arrived. Using the Virtupets® Orbital Space Station #4, he attempted to take over Neopia, but fortunately, his attempts were thwarted by the Space Faerie. Later, Dr. Sloth returned, this time trying to steal the riches of the Lost Desert. Thanks to some very brave Neopets, his plans were foiled again. Since his defeat, he's been in hiding, although since Kreludor was discovered in 2004, rumors of his return have become quite common. Only time will tell what will happen to this Space Station if Dr. Sloth ever returns...
The Virtupets® Space Station was also the site of the Neopet v2 puzzle a few years back, in which a malicious computer program left on the station by Dr. Sloth took control of the Space Station. Fortunately, he was stopped before he could do any major damage.
Gormball - An old but entertaining game of chance that is quite similar to Hot Potato.
Neopet v2 - Come here to learn more about the mystery puzzle from a few years back that first introduced us to the infamous Neopet v2.
Adopt-a-Grundo - Come here to adopt your very own Grundo. This is the only way to get this Neopet.
Evil Fuzzles from Beyond the Stars - Evil fuzzle monsters are attacking, and it's your job to destroy them in this shooter game.
Petpets - Come here to purchase all sorts of robot and space petpets.
Space Weapons - The place to go for advanced weaponry that, in general, is not all that advanced.
Splat-a-Sloth - A simple, but strangely enticing game that requires you to hit a green sock that looks remarkably like Dr. Sloth with a rolled up Neopian Times. How close to the head can you hit him?
Lever of Doom - DO NOT PULL THIS LEVER! You've been warned, but if you do decide to test your luck, you could lose Neopoints (usually 100 NP), or rarely, you could win Neopoints or earn a secret avatar.
Grundo Warehouse - Whenever you buy Neopets merchandise (excluding trading cards), this is the place to go to redeem your Rare Item Code for a cool prize.
Space Battledome - If you challenge another user to a fight in the Space Battledome, you must come here to enter the battle.
Space Armour - This shops sells also sells advanced (but generally not too powerful) armor for your Neopets to use in the Battledome.
Grundo's Cafe - A cozy little place run by the famous Grundo, Gargarox Isafuhlarg. Come here to tease your taste buds with foods that are "quite literally out of this world!"
Secret Locations
Mind Control Lab - Come here on Sloth Appreciation Day to take Dr. Sloth's Loyalty Test. (Correct answers: C, D, B, C, A - This gets you the I *heart* SLOTH avatar.)