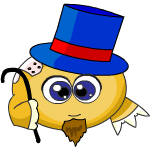 Welcome to the Chocolate Factory
Nobody ever goes in. nobody ever comes out, but we sell chocolate by the truckload!
Neopian Inflation is currently at 2.31%
You have 25 NP to spend.
---
Sorry, we are sold out of everything! We get restock every eight minutes or so, so please come back soon.
---
NEOPETS HINT
You may be able to find some cheap food, or other objects in the Neopian Auctions!