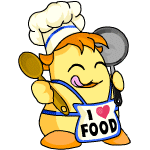 Welcome to Neopian Fresh Foods
Now we restock 3 times as much!!!
Please click on an item you wish to buy.
Oh, find rare foods and you may qualify for Gourmet Club!
Neopian Inflation is currently at 2.31%
You have 0 NP to spend.
---
Sorry, we are sold out of everything! We get restock every eight minutes or so, so please come back soon.
---