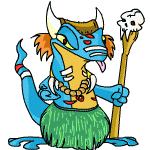 Tropical Food Shop
Tropical fruits and fishy delights straight from the isle of wonders!!
Click here to return to Mystery Island.
Neopian Inflation is currently at 2.31%
You have 0 NP to spend.
---
Sorry, we are sold out of everything! We get restock every eight minutes or so, so please come back soon.
---