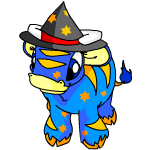 Kauvara says 'Can I help you find something???'
Please click on an item you wish to buy. Magic items will aid you on your travels around Neopia. Soon you will be able to enchant other creatures and use the special spells that I sell to help you on your way.
Neopian Inflation is currently at 2.31%
You have 0 NP to spend.
---
Sorry, we are sold out of everything! We get restocked every eight minutes or so, so please come back soon.
---
NEOPETS HINT
Playing Dice-A-Roo is a good way to get food!