Garon's Ice Caves
In a far corner of the Ice Caves is a small tunnel. Moving through that tunnel, you come across a very old Lupe named Garon.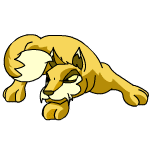 HALT!
What are you doing here??? I haven't seen anyone in this part of the Ice Caves in years. I came back here after I defeated Fyora and all of the other Faeries in Faerieland. Ah, those were the good ole' days, but you can't get back there now. Fyora closed all seven levels of the Faerie Caves after I left.
Perhaps you should try visiting the New Faerie Caves that Fyora has recently built.