Scratchcard Kiosk
IMPORTANT: Please do not create multiple accounts to visit the Scratchcard Kiosk as it unbalances the game. You are limited to one account per person to visit here. Using multiple accounts simply to gain Neopoints is not allowed and will result in freezing.
Fancy trying your luck at winning a fortune? Well the Ice Caves Scratchcard Kiosk could mean that today is your lucky day. It costs 600 Neopoints to buy a Scratchcard, and some are rarer than others. It's Lucky Dip so I can't guarantee which one you are going to get!! :)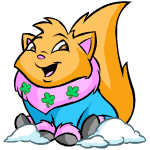 So, are you interested? If so, click the button below to buy one! If not then you can click here to go back to the Ice Caves.