Defenders of Mirror World HQ
You enter the DoN control room...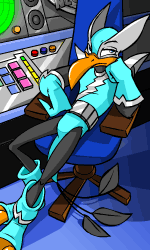 Hey there!
*sigh* I suppose I have time to answer some of your questions...
HOW DO YOU USE SECRET CODES/PHRASES?
Almost every page which uses a secret code has a web address that ends in "_.htm". If you add the passcode after the underscore so that looks like "_passcode.htm", then it should work. For instance, if you go to the Mirror World Chocolate Factory near Neopia Central and use "negg" as a passcode, the shopkeeper will give you one if he has any in stock. Try it for yourself as practice.
http://www.neopetshive.com/Hive/shop14_.htm
becomes
http://www.neopetshive.com/Hive/shop14_negg.htm
CAN I STILL TRY THE OLD MIRROR WORLD PLOTS?
No. Those plots are over and most of the related pages have been removed from the site. We suggest checking out the Mirror World Mystery and Return to Mirror World Guides for additional info on how to complete these plots.
HOW DO I SIGN-UP FOR THE PLOT?
There is no way to sign up for the plot. Everyone can participate by going to Defenders HQ in Mirror World and beginning the plot from there.
WHEN DOES THE PLOT START?
We're not sure yet... probably some time near the end of July.

WHAT HAPPENS WHEN YOU COMPLETE THE PLOT?
The first people (up to 100) who complete the plot will be listed on the Defenders of Mirror World High Scores page. The very first people to finish will receive special Neopets Hive trophies that they can put on their Neopet Lookup Pages, or at the top of their User Lookups.
HOW DO YOU GUYS KNOW WHO WON?
At the end of the plot, the winners will contact one of our accounts with special information. We will keep changing the account and the information we want to prevent multiple submissions.
CAN I BE YOUR NEOFRIEND?
All users are my Neofriends (rough translation - I don't use that feature, so please don't ask).
More questions will be added as necessary.