Current Mission | Mission Profile | Talk to Your Supervisor | Previous Missions | High Scores | Help
Defenders of Mirror World - High Scores
Starting in October of 2007, the Neopets Hive began to host a series of mini-challenges on the Neopets Hive called the Defenders of Mirror World Series, set in our very own Mirror Neopia. Below is a list of the Top Trainees during Season One!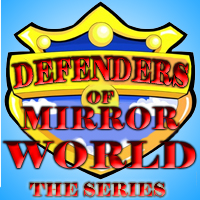 -=SEASON ONE=-
Mission One | Mission Two | Mission Three
---
(maximum score : 30)
(minimum score : 1)
Username
Badges
Detectives - 8 Defender Points
matchu1993
speedyweedy298
Sleuths - 7 Defender Points
spy_lenses
Gumshoes - 6 Defender Points
jordans_sa
Rookies - 5 Defender Points
fredf200
makotwisted
Recruits, Level Three - 4 Defender Points
berber88
premio41
utopian6
Recruits, Level Two - 3 Defender Points
actionboy8292
fireknight729
paul87893456
Recruits, Level One - 2 Defender Points
20catz01
adamrmp
el_gringo_100
hulagirl2343
michaelf337
moveover987
myguildaccount115
shadowbeam_
soapman87
unknown_user_4117
yankeesfan777
Newbies - 1 Defender Point
adamgreg
dracomaster400
emereldsnake12
jockylocky
juandvas05
kallykat_03
kdbk
kikyo_sadpristess
ks_33
maymay2317
meerca567
miloandfrisky
angegirlmon
grishiu
teddydude96
nancyhuynh
meercahopetristonpets3
doody_duty
shoyru4me263
trewq144
dodobutt222
puppy_luver_num1
wierdopoops
PLACE
POINT VALUE
1st-3rd
3
4th-10th
2
11th-25th
1
RANKS
MINIMUM DEFENDER POINTS NEEDED

Defender of Mirror World
15

Defender of Mirror World
Sidekick
12

Defender of Mirror World
Trainee
10
Agent
9
Detective
8
Sleuth
7
Gumshoe
6
Rookie
5
Recruit, Level 3
4
Recruit, Level 2
3
Recruit, Level 1
2
Newbie
1
*NOTE: Ranks and prizes subject to change.