CALLING ALL DEFENDERS!!!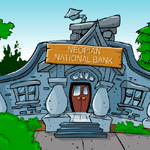 We Need Your Help!!!
The National Neopian Bank and several other locations around Mirror World have been robbed by a mysterious bandit called the Jade Usul. Can you help us bring her to Justice?
The Neopets Hive Turns Five!
Can you believe it? Five years have passed since the Neopets Hive first went online. That means we're going to be celebrating all month long, so keep checking the New Features page for related updates :-)
Lady Frostbite is on the Loose!
That's right! Think you've got what it takes to defeat Lady Frostbite and earn a shiny new trophy for your User Lookup? Then go to Defenders Headquarters and get to work! (But first, you *may* want to check out our Battledome page for more info on where to find her.)
Lutari Island Is Now Available...
That's right! Lutari Island, as well as the many special features unique to this exotic world, are now available to users who sign up for Neopets Mobile. For more info, check out our Lutari Island Article.
For Your Safety...
The Neopets Team has implemented a new, optional safety feature which provides you with an extra line of defense in case somebody breaks into your Neopets account. Be sure to create your own PIN by going here!