Current Mission | Villain's Profile | Talk to Your Supervisor | Previous Missions | High Scores | Help
Defenders of Mirror World Series - Mission One Solution
Once you received the details of your mission from Lightning Lenny, your next step should have been to view the Villain's Profile, and then you should have paid a visit to Judge Hogg. When he mentions picking up something for him while you're out, he tells you to "Tell 'em Judge Hogg sent ya."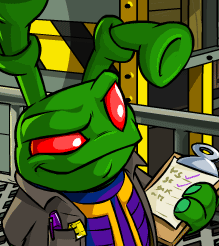 On the Space Station, if you use Judge Hogg as a passcode in Grundo Warehouse, you'll receive a special Fuzzle Bomb to use on the Evil Fuzzles when you find them.
The first Evil Fuzzle is located, conveniently enough, through the door marked Evil Fuzzles. Use the Bomb on him to earn a Neocola Token.
The second Evil Fuzzle is pretty easy to find, too. Simply pull the Lever of Doom and you'll be attacked yet again. Once more, use the Fuzzle Bomb on him to earn a second Neocola Token.
The third Evil Fuzzle is a bit more difficult to find. You actually have to go to Neopet V2 and use "evilfuzzle" or "evilfuzzles" to locate it, and once again, you earn a Neocola Token by destroying it.



So many people came across Gorix in the Maintenance Tunnels (a location used during previous plots) that we actually modified his page so that it gave you another hint - he basically told you that there were only three fuzzles on the station, and that you'd have to go elsewhere for more.
So now you've got three Neocola Tokens, which *probably* should've hinted that the next place for you to go was the Neocola Machine on Kreludor. By putting all three tokens into the machine, you could gain access to the machine and earn a prize.

There was only one thing you actually needed out of the machine... a Dastardly Evil Fuzzle (which actually CAN be won from the real Neocola Machine). Everything else is useless (for now), but the great thing about Dr. Sloth is that he LOVES to make Neopians and Mirror Neopians alike suffer, so countless people probably spent forever trying to figure out what to do with the prizes they were winning from the Neocola Machine before they realized that every single one of them was useless.
The only was to make an Evil Fuzzle jump out of the machine was to put the tokens into the machine so that the Token Codes were in this order:
195832274
Then you had to do exactly what the machine told you not to do by pressing the red button. If you selected 3 after that, then a Dastardly Evil Fuzzle would appear which could also be destroyed by a Fuzzle Bomb. As a prize, you would've received a Defenders Coin for Mission One.

Last but not least, bring this Coin to Judge Hogg and you'll receive your End Mission Code, which was originally COIN038 but was later changed to DEFENDERS38 to make sure that people weren't just submitting the Coin Code thinking that the mission was over.
For all future missions, a different Neopets Account will be used to accept End Mission Codes so that people don't just send prince_raptor whatever codes they find.