Fyora's Feast of the Faeries
---
The Feast of the Faeries is now over, thanks for playing!
---
Intro and Rules | The Feast | Clues | Guess | Reward | Results | Solution
Clues
We will give out one clue every day or two starting on Sunday, May 29th, 2005. Keep checking back.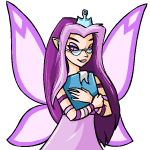 I hope you're bright!
Also, if you get the correct answer, please do not use multiple accounts to try and get extra Neopoints. This competition has a fixed amount of funds which will be split amongst the winners.
ALL CLUES HAVE NOW BEEN RELEASED! BEST OF LUCK!
Clue List
Each of the six invited faeries received one and only one gift from the other five.
Each of the six faeries received one of each type of gift before Fyora began exchanging them.
llusen and Jhudora were the first to exchange gifts. They gave each other supposedly "magical" items that really weren't…
Jhuidah gave the Space Faerie a special item from the Cooking Pot that could detect evil, and therefore, could warn her of Dr. Sloth's presence near Neopia. In exchange, Jhuidah received a food item that, in actuality, contained a small transmitter which would allow the user to call for the Space Faerie's help at any time.
Taellia received a rather mischievous petpet, and in exchange, gave away a magical doll, sculpted into her image.
Everyone laughed at the Battledome item Jhuidah received... it was rather ironic, after all.
The Space Faerie was especially fond of dolls, and received two doll-related gifts, as well as a Petpet that simply wasn't ready for life in the darkness of space.
Illusen was deathly afraid of her petpet, whereas Jhuidah was unsure of how hers would fare in a tropical climate.
Taellia's meal could stay crisp forever on Terror Mountain, whilst Illusen's was very appropriate for an earth faerie.
The Soup Faerie's battledome item could be used to cool down her hot meals.
As a gag at the end of the Feast, the Soup Faerie gave Jhudora her Kind Avatar. Everyone got a hearty laugh out of it, and the Soup Faerie got a rather insidious brew in return…
Fyora's Clues
I'm quite fond of Petpets, so I was sure to take some for my own.
The faerie with the Magical Jhuidah Doll was given a special avatar which would allow her to access the Rainbow Fountain at any time, in exchange for her Petpet, of course.
I've always been suspicious of Jhudora's motives, so I quickly exchanged one of the gifts she brought for an artifact that would make the user invisible to evil…
Jhudora received an item that could help me keep an eye on her, in exchange for her Petpet, of course.
I gave my Faerie Niptor to the faerie with the Jhudora-themed avatar, in exchange for her Petpet, too.
I exchanged Battledome items with the faerie who received a magical doll from Jhudora.
I exchanged foods with the faerie who was holding the Magical Taellia Doll.
Since the faerie with the Magical Soup Faerie Doll didn't received anything from me, I snuck her a few million Neopoints before she left.
BONUS CLUE #1 - Only Jhudora left with two items from me.
BONUS CLUE #2 - As much as I love petpets, I had no interest in trading for a Bartamus.
BONUS CLUE #3 - I didn't leave with any of my own gifts.