Fyora's Feast of the Faeries
---
The Feast of the Faeries is now over, thanks for playing!
---
Intro and Rules | The Feast | Clues | Guess | Reward | Results | Solution
Guess
Starting on Wednesday, June 1st, 2005, we will begin accepting people's answers to the puzzle. On that day, we will ask participants a SPECIFIC QUESTION about the Feast which they must answer to receive a prize. Only about 50 participants will receive Neopoints, and each Neopets account can only submit one answer, so make sure it's the right one! Please do not submit your answer from numerous accounts, since this is unfair to other players. We have a very limited prize fund, and if we catch you sharing answers with other users, you will not receive any prize at all.
NOTE: If you and your friends work together, we can only accept an answer from one account. For this reason, we suggest you work on your own unless you wish to share your reward.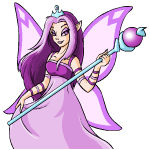 QUESTION: What six items did Fyora end up with?